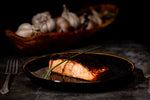 Pan Roasted Antarctic Salmon w/ Asian Glaze
Ingredients: 
Kosher salt to taste 

Fresh Ground black Pepper 

1 Tbsp canola oil 

4 tbsp unsalted butter
With high marbleization stemming from the world coldest waters, Antarctic Salmon is truly a culinary delight and compliments a wide variety of ingredients.
Directions:
Gently blot dry salmon fillets. Sprinkle with kosher salt, and fresh ground pepper.
Heat a cast iron or sauté pan and coat bottom with canola oil over medium high heat. Place salmon in pan and sear for two minutes.
Place salmon in a preheated oven at 375 degrees for 6 minutes and remove from oven. Turn salmon over and place back in oven for two minutes or until salmon is cooked medium rare.
Remove pan from oven.
Place salmon on serving plate.
In small sauce pan add 4 oz of FishFinery's Asian marinade and bring to a gentle simmer for two minutes. Stir in butter until it fully emulsifies.
Brush half of the glaze onto salmon and pour the remainder as a sauce.
Yields 4 portions. Make sure to follow @FishFinery on instagram for featured dishes and more delicious recipes!